Welcome to the Sleepytown Beagles Website

Share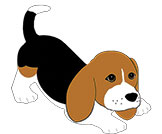 Hi! We are Penny, Panda, Gunner, Tyler and Sundae, the Sleepytown Beagles from the books. We are very glad you dropped by, and we welcome you to our home on the web.
Come on in, wipe your paws, sit and stay for a spell. Our website is packed full of things about us, the Sleepytown Beagles and, of course, our human friend, Tim. We allow him on our journeys so he can write about us and share them with you. Each book has a valuable lesson taught in a memorable way by us, the lovable Sleepytown Beagles.
We have lots of other neat stuff, too. Just paw around and make yourself at home.
As much as we like to have fun, we Sleepytown Beagles have a serious side. We are always trying to help our friends at the beagle rescues. We know not all beagles are as lucky as we are. Therefore, a percentage of the royalties from our books will be shared with various rescue groups. Not only will you get to come along with us on our really cool journeys but also get to help less fortunate beagles at the same time.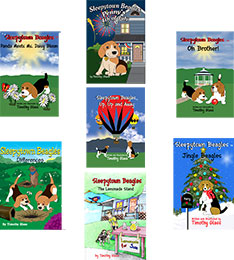 Please enjoy your visit. We would love your company on our next adventure, so watch for our next book in the series.
To purchase the first six books in the series in hardcover, paperback or audio book format, click here to order from our website. If you would like to have a book signed by Tim, please contact us or catch us at a book signing in your area.
Sign up for my newsletter.
Hey, kids, don't forget to check out the Things To Do page with cool coloring pages and more. It can be found under the Resources tab or by clicking here. We will be adding more, too! So please check back. Also, did you know we have our own cartoon series too? Check it out!