Cool Things to Do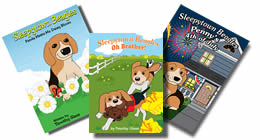 Hey kids! If you like our coloring pages, you're going to love our books. Make sure to check them out. We we have sample pages to read in our online store.
Make sure you ask your mom and dad first before printing anything. After that simply click on the link below and print out the page you want or work the puzzle. We will be adding more items so make sure you check back.
~ Enjoy!
*All coloring pages and picture puzzles are offered for personal use only. Images are the property of Sleepytown Beagles.
*Teachers please feel free to use any of these pages for your classroom.